The submission period for the 2017-2018 issue is now closed. Submissions for the 2018-2019 issue are now open.
We accept submissions of short stories, short plays, poetry, personal essays, creative nonfiction, literary
journalism, photography, and drawn or painted visual art of any medium. We accept submissions from students currently enrolled at the University of Pittsburgh-Johnstown, as well as from faculty and alumni.

Please send submissions to backroads2@





gmail.com, with your submission attached as a separate file. Multiple submissions are accepted, but must be included as separate files. The file name of your attached submission(s) should be the name of the work, but the document itself should not include your name (this is done to ensure unbiased reviews of all submissions

)

. The subject line of your email should be "Backroads Submission." In the message of the email, state your name, the titles of all works attached to your email, and a brief (one to three sentences) third-person biography about yourself.
​
Specific Guidelines

SHORT PROSE: Short prose includes short stories, personal essays, short creative nonfiction, literary journalism, and short plays, and should be included in a .doc file, .rtf file, or .docx file. We advise that you check your work for grammar and other kinds of errors before submission. We recommend a maximum length of five to six pages but will accept longer submissions.

POETRY: Poetry should be included in a .doc file, .rtf file, or .docx file.

VISUAL ART: Visual art includes drawn or painted art (either digital or traditional) and photography. Visual art should be included in a .jpg, .bmp, or .png file. We recommend that drawn or painted art be captured using a scanner and that photography be of a decent resolution. Remember, Backroads editors and staff select the best quality work for publication.
Powered by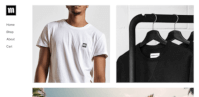 Create your own unique website with customizable templates.